Welcome to the National Fox Welfare Society's Website (NFWS) A site dedicated to the welfare of the UK Fox Population
More than just fox rescue: Dedicated to the Red Fox in the UK for over 25 years, The National Fox Welfare Society provide free mange treatment to householders feeding foxes in their gardens with Sarcoptic Mange and this alone means each and every year we don't just help a few foxes, not even hundreds, but thousands! All foxes we rescue will be seen by a Veterinary Surgeon in the first instance and price is never put before the life of a fox. Whilst in our care the foxes receive the very best food along with the very best veterinary medicine to aid their recovery. When a fox that has been in our care is released back into the area the fox was caught in, we ensure, when we do so, that the fox has as much chance of survival of any wild living fox.
Stress is a big factor for a wild animal and we try to reduce this as much as possible and it is for this reason, we never have an open day. The NFWS is spending thousands of pounds each year researching Toxoplasmosis in the UK fox population in the hope of getting a better understanding of the condition and the best ways to treat it. We are enrolling and equipping new volunteer rescuers across the country almost every month.
In 2015 the National Fox Welfare Society was awarded the International Fund For Animal Welfare (IFAW) Animal Action Award and in 2016 we were the winner of the Daily Mail / RSPCA Animal Hero Awards ' Animal Enthusiast of the year'.
We also provide a fox sanctuary for foxes that can't go back to the wild. All our rescuers, Cage trap setters, fox cub fosterers, release site providers are all voluntary, so if you can help either financially by way of a donation or by joining our Society, this would greatly help our vital work continue. Furthermore if you are able to help hands on, please click on the appropriate link below. In anticipation of your support, we thank you. Thank you for visiting our site and if you have any comments, suggestion or questions please email us at natfox@ntlworld.com.
The story of Phil the fox from South London and how one man called Peter saved his life. Phil was suffering very badly with Sarcoptic Mange and was very emaciated. This little fox needed help. The video above explains how Peter managed to catch little Phil so we could take him on for the aftercare and treatment for his mange. To see all the photos of Phil and his full story please visit our Facebook Page here:
A preliminary Study into the detection and genetic characterisation of Toxoplasma gondii in red foxes in the UK and association with behavioural changes
Toxoplasmosis: Is a Parasitic Disease caused by the Protozoan Toxoplasmosis gondi. Protozoan being a single-celled microscopic animal. The disease can be found in almost all warm blooded birds and animals, but the only animal that Toxoplasmosis oocysts (A cyst containing a cell) can reproduce is the domestic cat. The oocysts are released in the cat's faeces.
Studies in rats have shown that rats infected with Toxoplasmosis do not fear cat pheromones even though Rodents instinctively shy away from the smells of a cat. So it would seem that for the parasite to complete its life cycle the infected rat would have to be caught by a cat. What better way than to infect the part of the brain that would normally shy away from this and make life harder for the cat to catch the rat! So the cat catches and kills the rat and eats it and the life cycle is complete and ready to start again when the cat goes toilet.
Fox Watching In the shadow of the fox by Martin Hemmington Foreword by Professor Stephen Harris (Second Edition)
Pudding the fox makes the front cover!
The author has much useful information on how to find, attract and watch foxes, as well as how to photograph them and how using wildlife cameras you can gain an insight into what is happening with the foxes when you are not able to observe them. How to become an amateur biologist, keeping records of the annual diet of your foxes, how to age a fox casualty and how to make casts of their footprints.
Martin Hemmington has been studying foxes for over 10 years when he wrote this book, during this which time his admiration for the fox grew so much that he formed the National Fox Welfare Society to which he has devoted himself full time for over 20 years. New 2nd Edition is available now at just £9.99 plus £2.00 postage






Sick Fox, Treatment for fox mange, mange treatment, bald fox, shaved fox, foxes, mange, treatment, mite, mites, sarcoptic Mange, Sarcoptes, Scabiei, scabies, fox mange, fox, foxes, cubs, vulpine, vulpes, red fox, kit, injured fox, orphaned fox cub, urban fox, mangy fox, fox rescue, vixen, dog fox, Ivermectin, Ivomec, Panomec, foxwatching, fox watching, Arsenicum, sulphur, arnica, homeopathic mange treatment, fox treatment, wildlife, fox rescue, fox rehab, fox earth, fox merchandise, canine Mange Treatment advice, Free Mange treatment.
Problems with Foxes?
Thinking of calling Pest Control? Thinking of spending vast amounts of money on Fox Consultation companies? Think again. Most fox problems are seasonal and are usually related to fox cubs or juvenile foxes. Fox cubs born in your garden, will leave of their own accord usually in June to early July where they will start travelling further afield with the adult parents. Calling on Pest Control companies to kill the fox is not only cruel but a complete waste of your money. And only lines the pockets of the Company involved. What they do not tell you is usually in August these fox cubs will start to leave the area in search of a territory and mate of their own..
Just having an insight into what happens and when can save you hundreds of pounds and importantly without the cruelty that is involved. Please see our Calendar of Events Page to gain an insight as to what the foxes are doing in each month of the year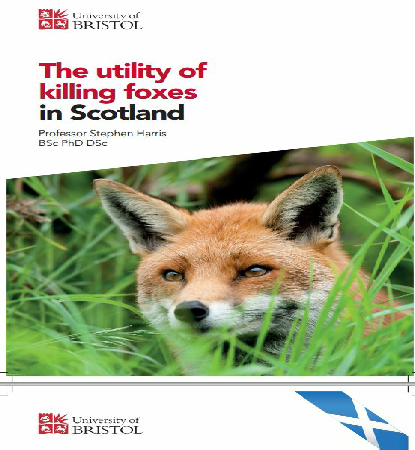 A report on fox hunting in Scotland by Professor Stephen Harris BSc PhD DSc. Commissioned and published by the League Against Cruel Sports Scotland.
The utility of killing
foxes in Scotland
Please click on the photo above to view the report in a PDF format
The use of text and images from this site is strictly regulated by the National Fox Welfare Society
If you see any of our site content on other sites, that do not credit our Society then this permission has not been granted, and we do not endorse the site, or the organisation behind it.
If you want to use any of our content, please ask!


Could you give a pair of foxes that can't go back to the wild, a New Home?
For the many foxes we rescue suffering from Toxoplasmosis,
sadly they can't go back to the wild as they prove too human-friendly so ou
r question is a simple one, have you got the land and facilities to be able to offer a forever home for a pair of Toxo foxes? We would talk you through all their needs and would check any enclosures and land for suitability.
If you think you can offer a safe forever home please do get in touch with us.



Free Sarcoptic Mange Treatment Packs for householders
Feeding foxes with mange.
Foxes suffering from Sarcoptic Mange is possibly one of the busiest areas of our work. If your visiting fox looks like any of the above photographs of foxes suffering from mange, then we would possibly look to try to cage trap the fox to bring in to treat. If your visiting fox /s are in the early stages, or anything up to 50% hair loss we can send you free mange treatment that can be added to food each night. So if you are looking for mange treatment or mange treatment advice, information, or to just see where Sarcoptic Mange in foxes is occurring around the UK please click on the arrow. In an average month we can send out a staggering 500 - 800 bottles free of charge.
Free Treatment here

National Fox Welfare Society
135 Higham Road, Rushden, Northants NN10 6DS
Phone: 01933 411996
Email: natfox@ntlworld.com

Red Fox T-Shirts
Visit our sister site for some brilliant fox t-shirts. T-Shirts that have been designed by animal lovers, for animal lovers.