To save our costs when requesting mange treatment please download your instructions booklet (link on the right of this page) , but be sure to tell us you have so we don't include another one. Thank you
Keep up to date with our fox activities, fox news and fox photos with our Facebook Page see below
Free Mange Treatment
Booklet ( Download Here)
Click picture below
If you have requested mange treatment this should be with you in a couple of days with full instructions. If you have requested a cage trap, we will contact you once a cage trap is available in your area.
Cage trapping foxes with really bad mange
The treatment we send out is usually effective for foxes suffering from Sarcoptic Mange with 50% or less hair loss. If the fox is in the condition like the above, then we set a cage trap to try and catch the fox to bring it in to treat them using conventional medicine. If treatment is successful, usually taking about 7 - 8 weeks, the fox will always be returned to the garden where he/she was caught. If you have any questions please do include them on the form left.
Please Note:
When the form below has been submitted correctly, the form will go blank. This means we have your details and will send out the treatment as soon as we are able. If you do not receive the treatment within a couple of days, please do not come back and fill in another request form and or email or leave a message on our recorded number for treatment, as often it means we will send several packs to the same address.
Please ensure all details are included on the form. Please do not just give a house number plus postcode as this means we have to then spend more time looking up the street address. The treatment we send out is a homeopathic remedy we have been sending out free of charge for over 25 years and we get continued reports of how effective this remedy is. If you do not believe in homeopathic remedies, please do not request the treatment and or send us a message informing us as to why we shouldn't be sending this out. You are of course entitled to your opinion, but please remember, so are we. Please also note we will not use your details in any sales, marketing etc but we do use postcodes for plotting mange occurrence.
Finally can we ask that no correspondence is sent to HSBC ie empty bottles, donations, letters etc. Thank you
Free Mange Treatment For Foxes and Mange Treatment Advice
Mangy fox, ill fox, sick fox, mange, mangy, mangey, sarcoptic mange, canine mange, mite, itching, scratching, conjunctivitis, bald fox, hair loss, alopecia, mange treatment, fox web site, nfws, fox rescue, injured fox, sick, orphaned, bald fox, scabby fox, open sores, weak fox, emaciated fox,
Sarcoptic Mange / Canine Mange Index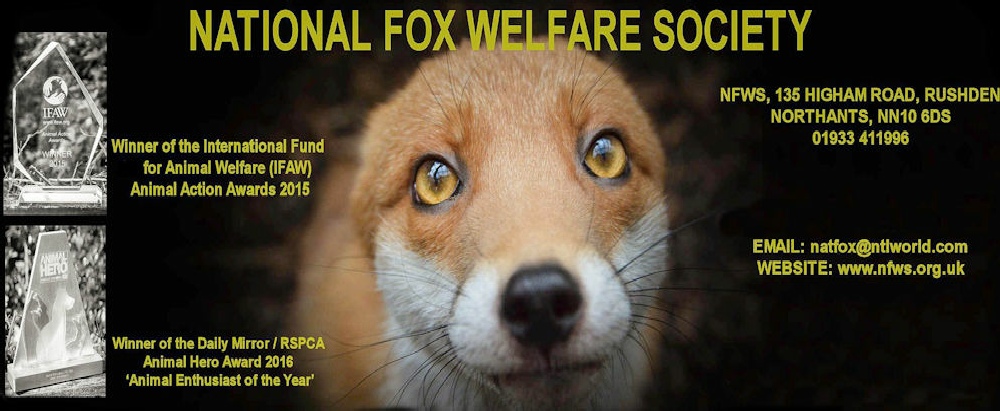 National Fox Welfare Society
135 Higham Road, Rushden, Northants NN10 6DS
Phone: 01933 411996
Emergency: 07778 183954
Email: natfox@ntlworld.com
Copyright National Fox Welfare Society
All Rights Reserved